we are having beer and wine at our wedding, it's classic and just makes sense. but don't worry, it won't be boring - there's just about every beer under the sun, and 7 different types of wine - we love wine. and most importantly - champagne. lots of bubbly. yum!
but we also want to include signature cocktails during cocktail hour outside of the beer and wine they'll be consuming the rest of the night, so now i'm on the hunt for the perfect beverage.
my cousin had this amazing caribbean cocktail at her wedding, and check out the DIY palm leaves around the cups!
i love margaritas too.. and the mason jar is a nice added perk :)
or how about a pear lemon fizz?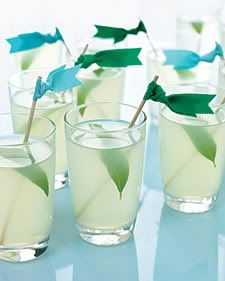 ingredients: pear vodka, lemon verbena simple syrup, fresh lemon juice, champagne, lemon leaf for garnish

i dont even know what this is but it's pretty

and then there's always a champagne cocktail of sorts

so here i am going crazy trying to find the perfect drink, right? and pat keeps saying he just wants vodka, sprite and a lime wedge. i'm like, but can't we make it pretty? i guess that's why it's the guy's drink...

open for suggestions!! happy friday!!